ADEPT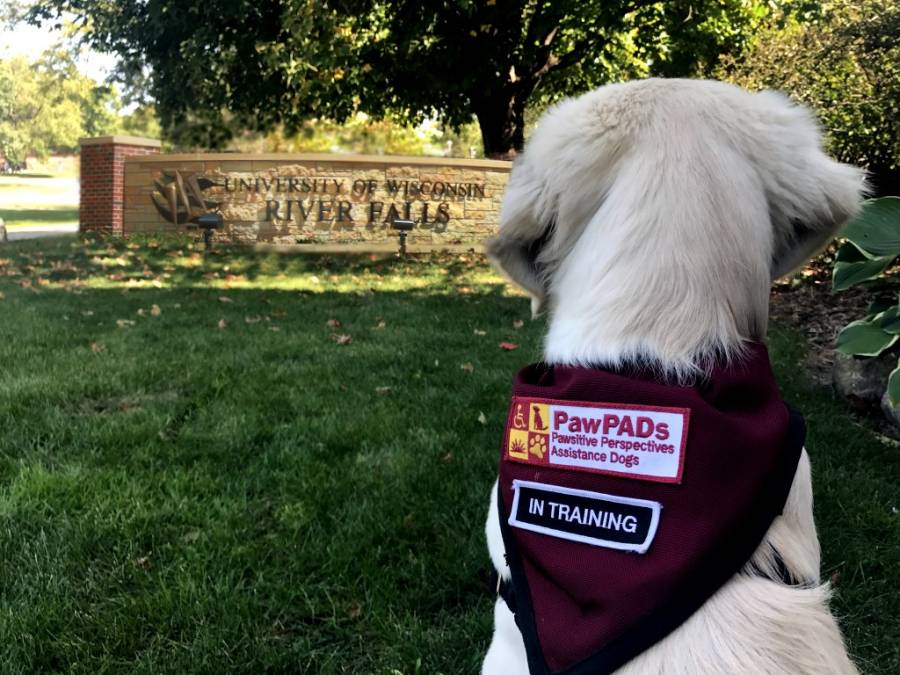 Assistance Dog Education Program and Training
(ADEPT)
Assistance Dog Education Program and Training (ADEPT)
ADEPT is an innovative intern partnership between PawPADs and the University of Wisconsin River Falls. It unites PawPADs' positive training methods and philosophy with the UWRF mission to "help prepare students to be productive, creative, ethical, engaged citizens and leaders with an informed global perspective."
How Does The Program Work?
The ADEPT internship program, unique within the UW system and nationwide, is distinct from traditional campus programs involving assistance dog puppy-raising experiences and training.
ADEPT interns are provided professional training instruction and opportunities for application, as well as opportunities for broader collaboration within the industry and the community. In exchange, the internship requires a serious and dedicated commitment of time, patience and teamwork on the part of the student.
Designed for students with a serious interest in assistance dog training and placement, the ADEPT internship program is a multi-semester 2 credit opportunity through the internship program in the College of Agriculture, Food and Environmental Science (CAFES). Students are provided with small group and individual professional training, guidance and learning opportunities that translate directly into employable training skill sets upon graduation.
Interns are responsible for the training, socialization and welfare of the ADEPT assistance dogs in-training. Activities and responsibilities include: high level socialization/public access training,
obedience skills and task training; providing physical assistance and performing tasks useful to a person with a physical mobility challenge, such as retrieves, turning on lights, alerting to blood sugar changes and opening doors. Each student is responsible for the daily care, supervision, training, and sanitation of dogs involved in the program.
Check out the ADEPT Internship Eligibility Criteria and follow the ADEPT program and PawPADs on Facebook for updates and current program and application information!
I've learned the power of positivity and the impact dogs can have on students and vulnerable populations...
...I've learned skills that will help me in the future...skills such as strength in teamwork, being flexible, persistent, and committed...
. . . [service dogs in-training] Sully taught me to be flexible and adaptable in all situations . . . Charlie has taught me patience and diligence.
[ADEPT] taught me to persevere through the hard times and celebrate the good times. Training is never easy, but each little victory makes it all worth it...
Interested in bringing ADEPT to your institution?
ADEPT offers:
An established curriculum and extensive experience training both dogs and people.
A mission statement specifically focused on the educational aspect of training dogs.
Complete package of skills and knowledge developed by pioneers in the field.
Broad, up-to-date, and relevant Continuing Education experience.
In-depth experience within the University of Wisconsin and Federal Bureau of Prisons systems.
ADEPT Class of 2019-2020