ADEPT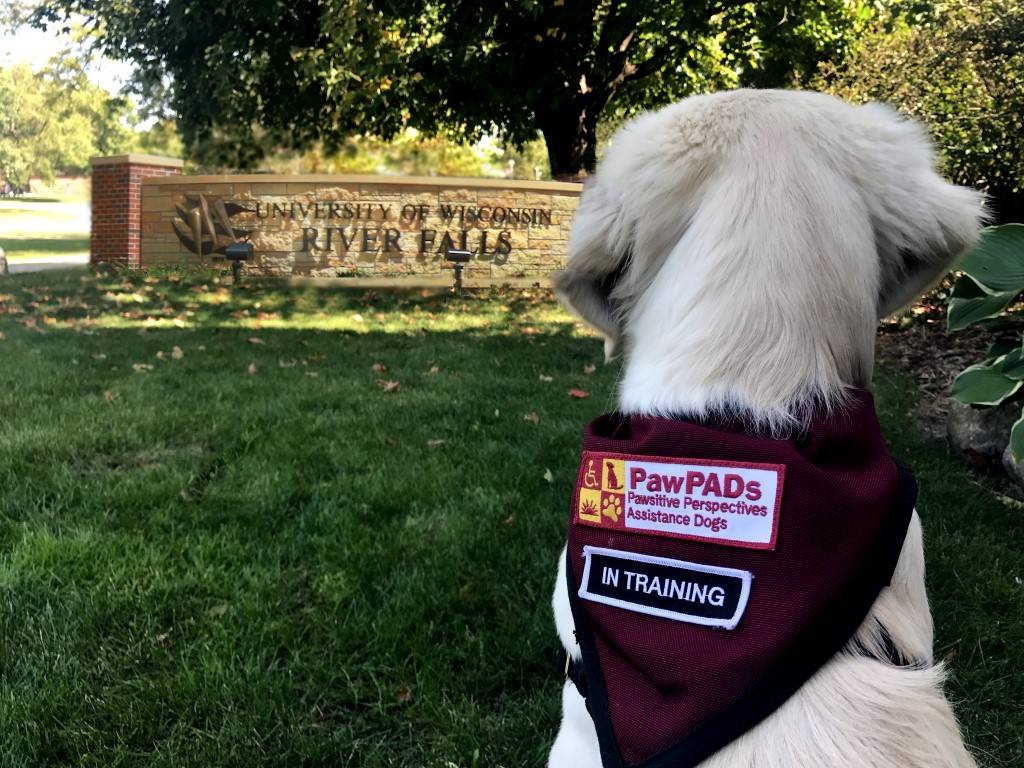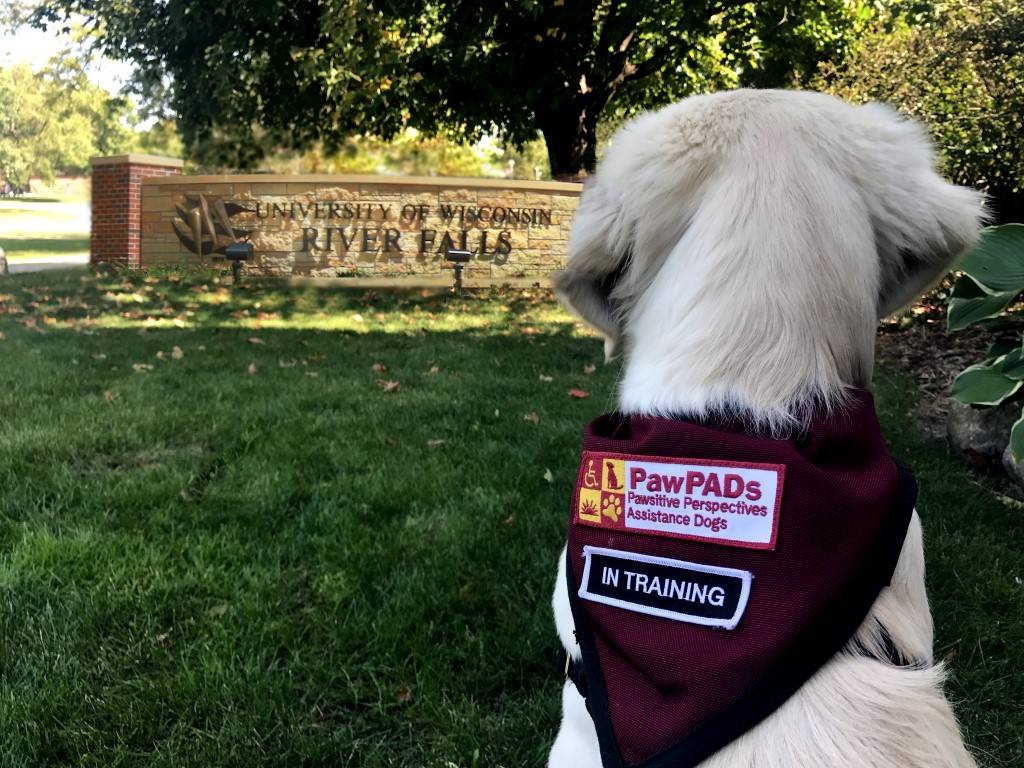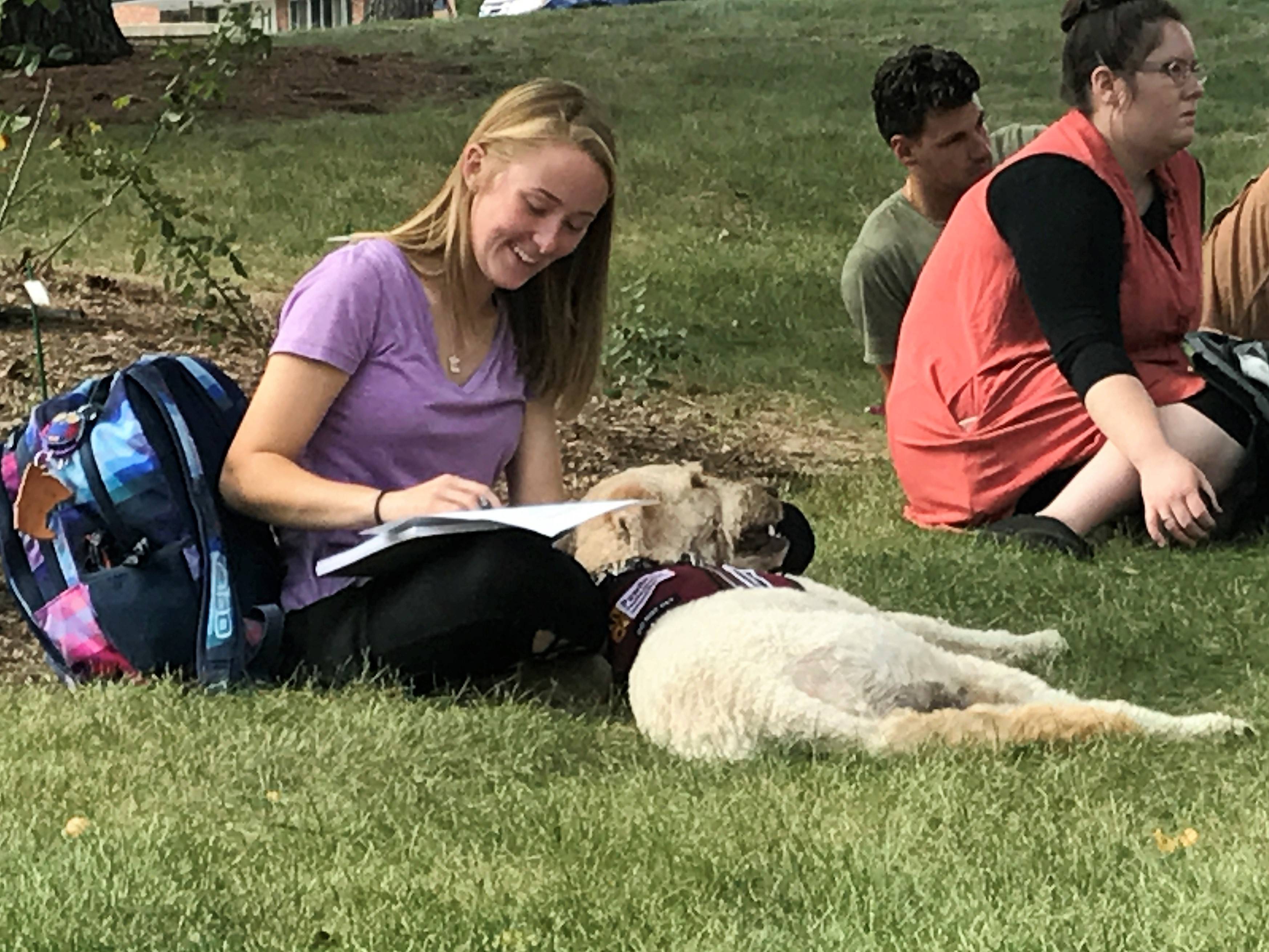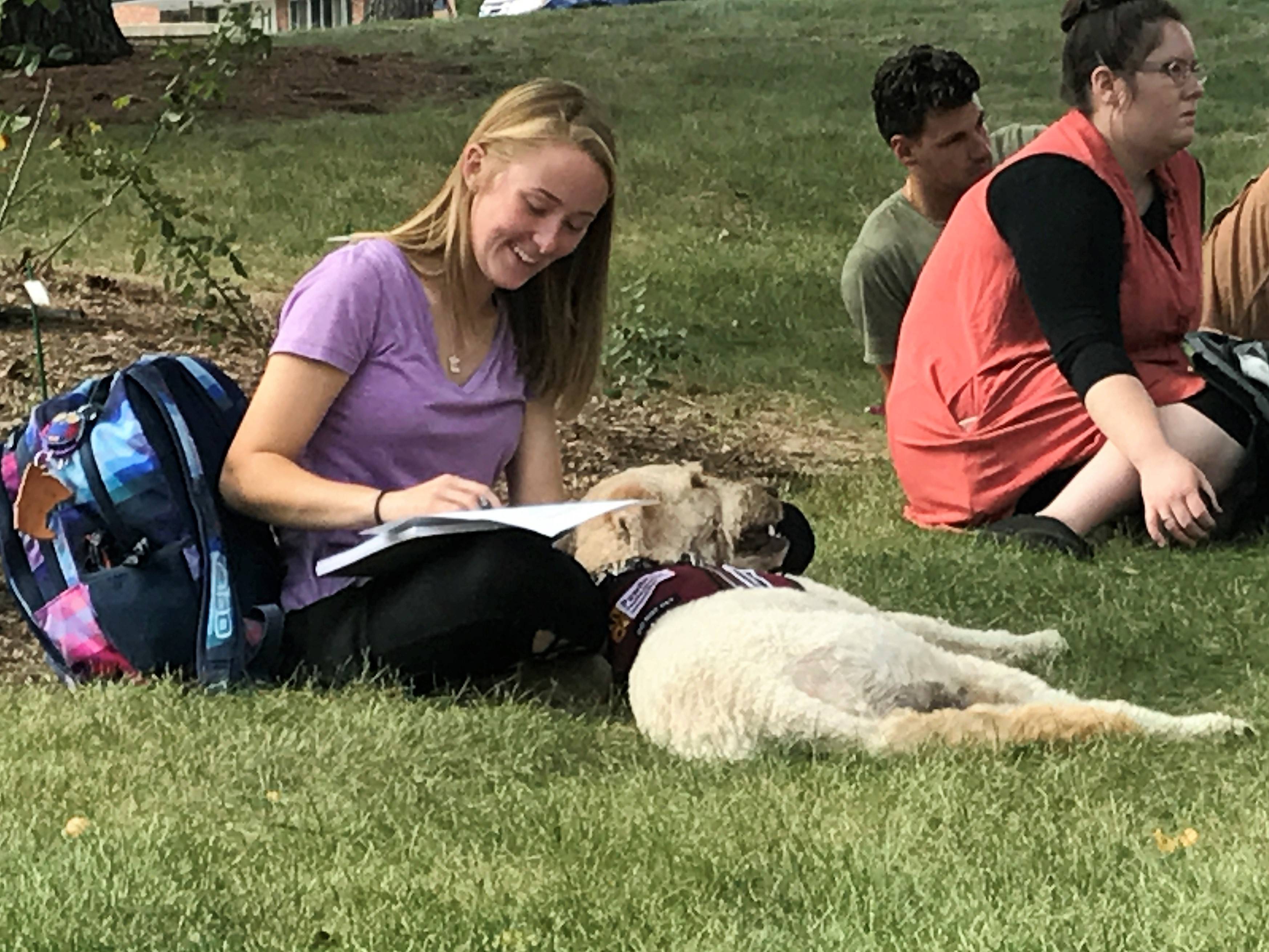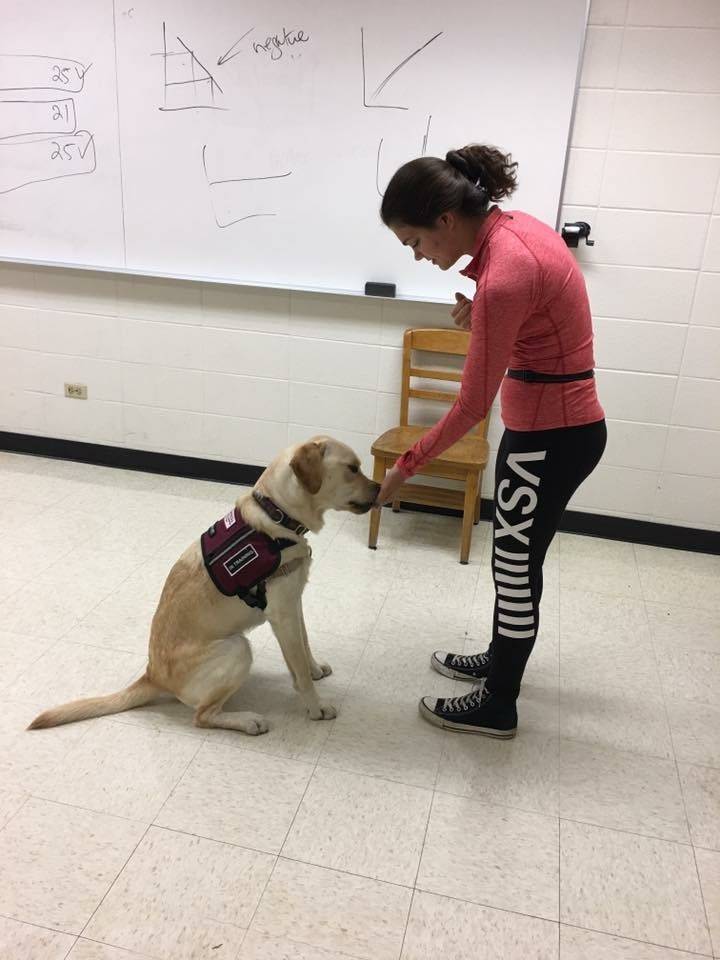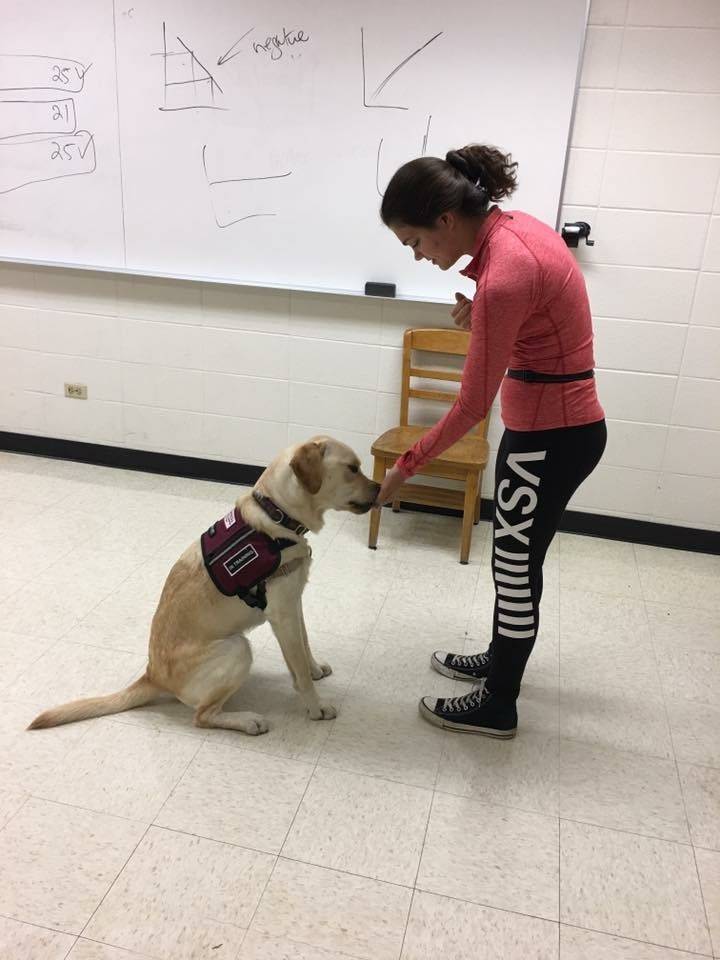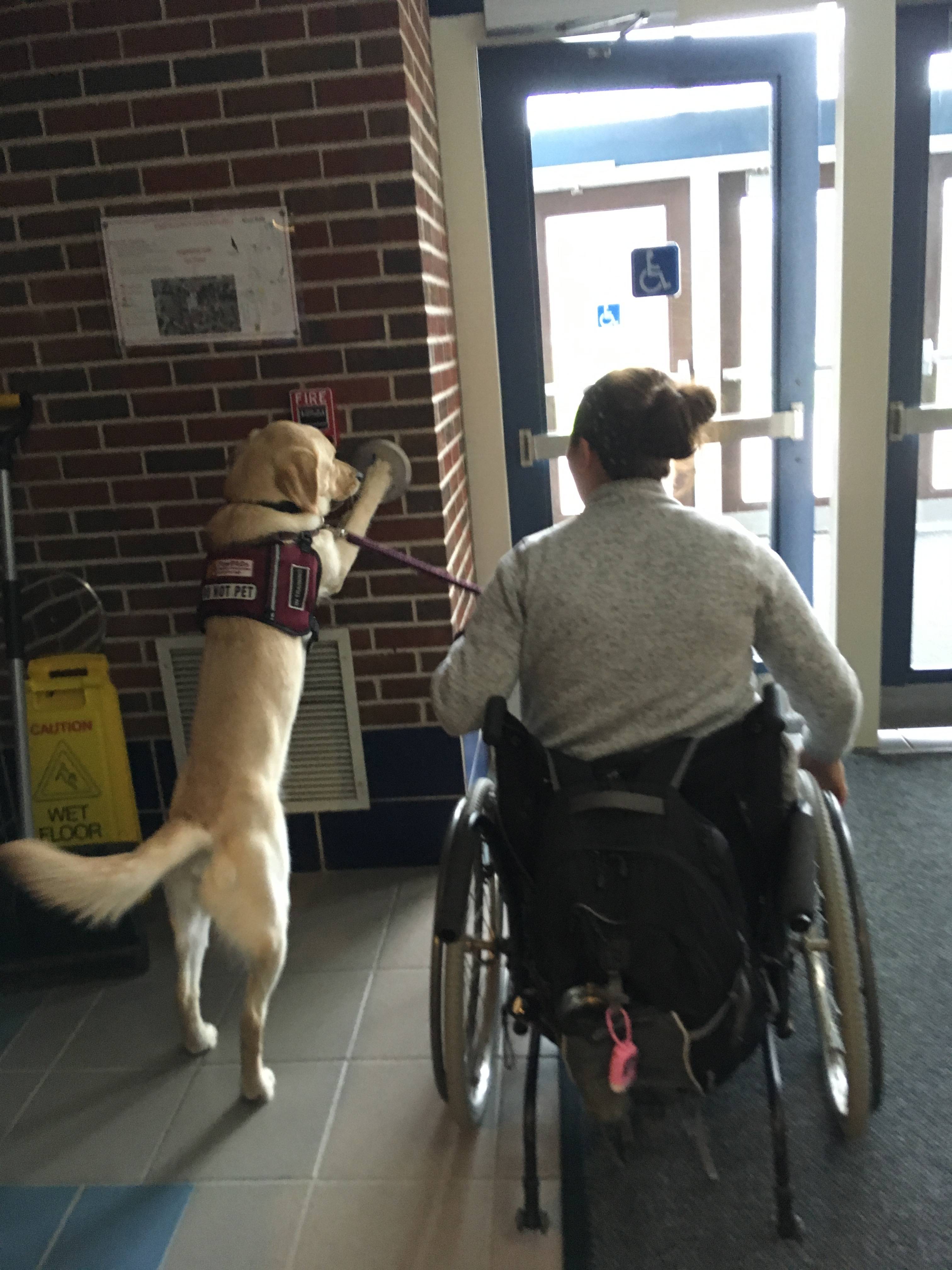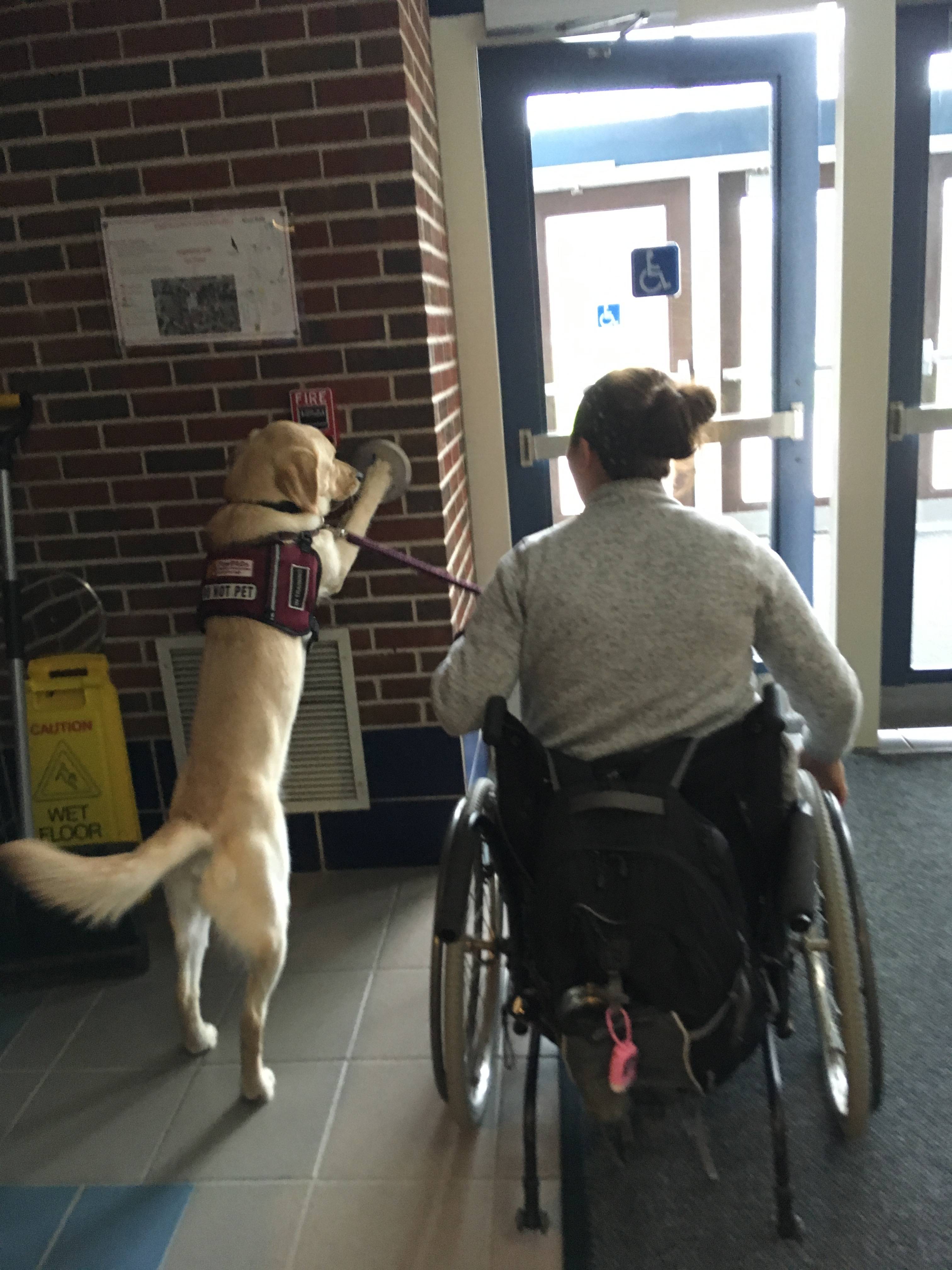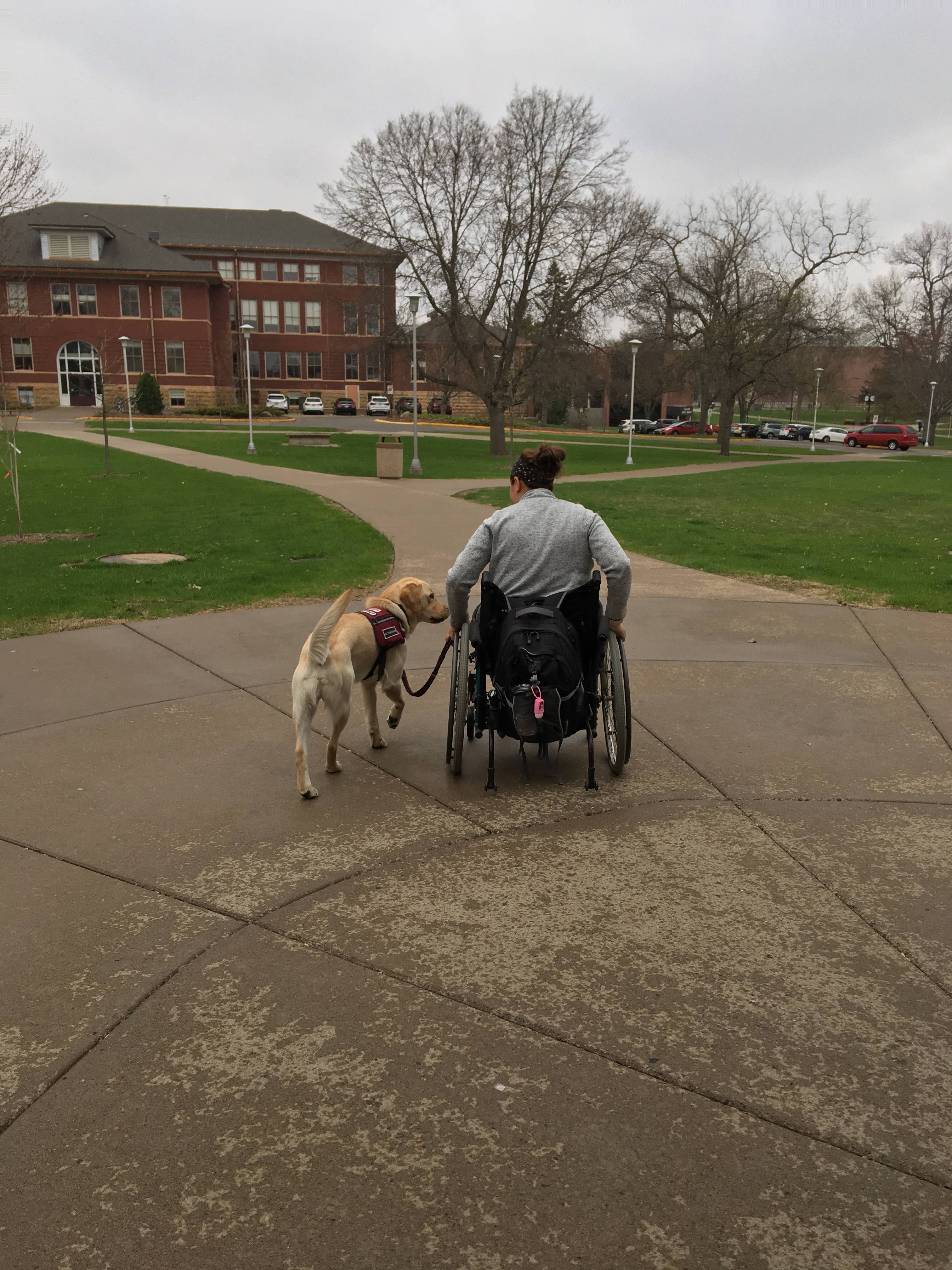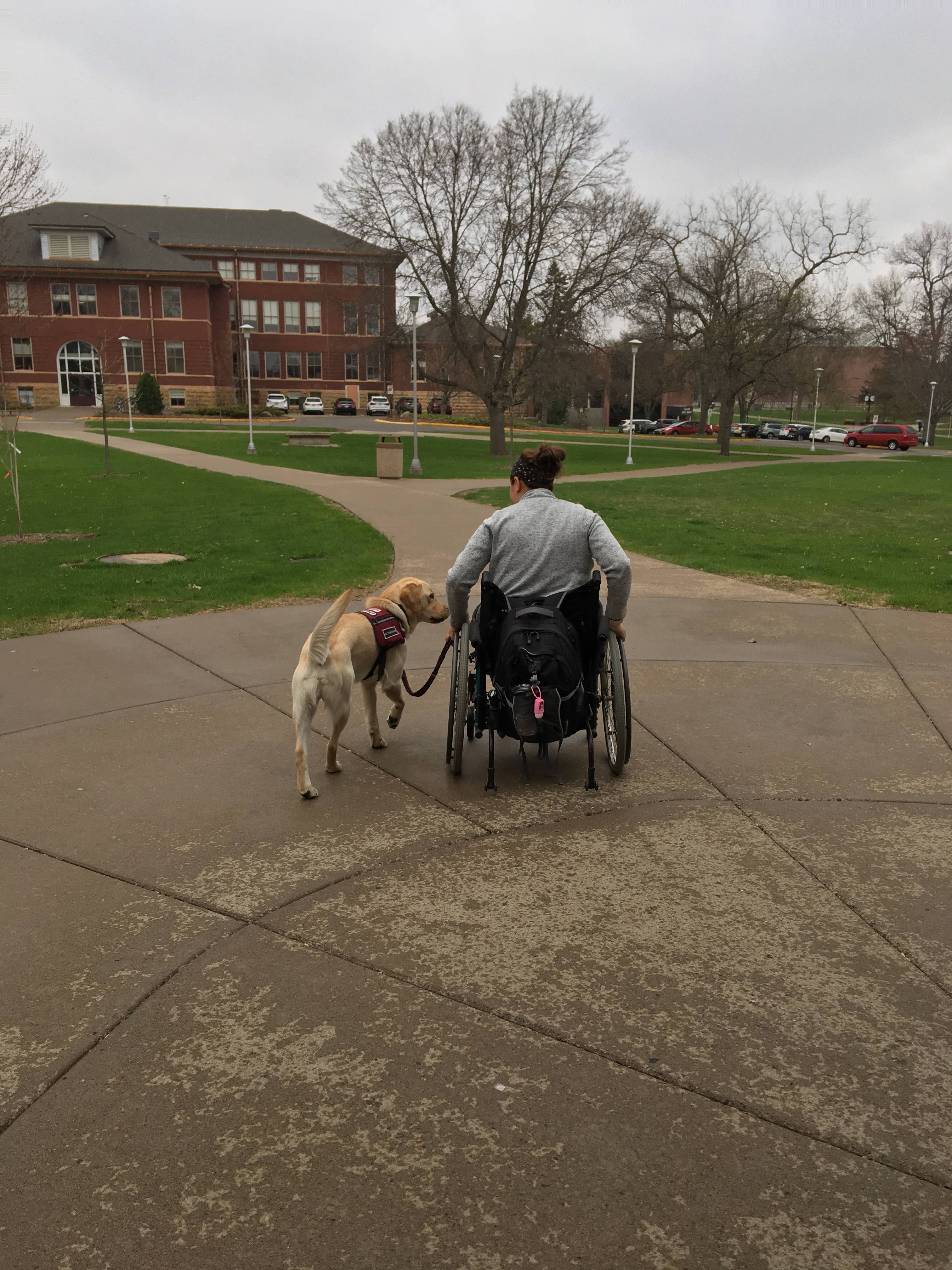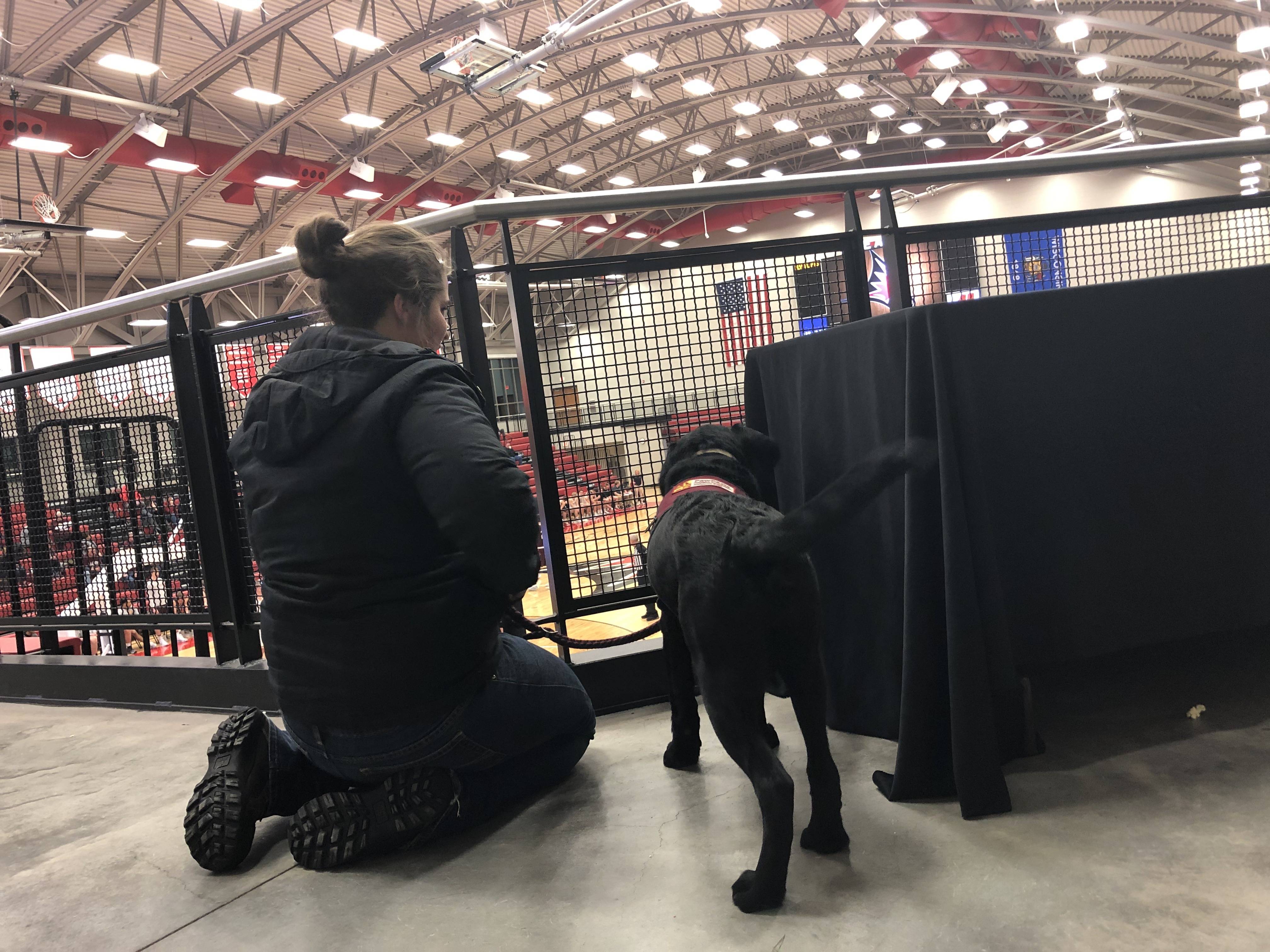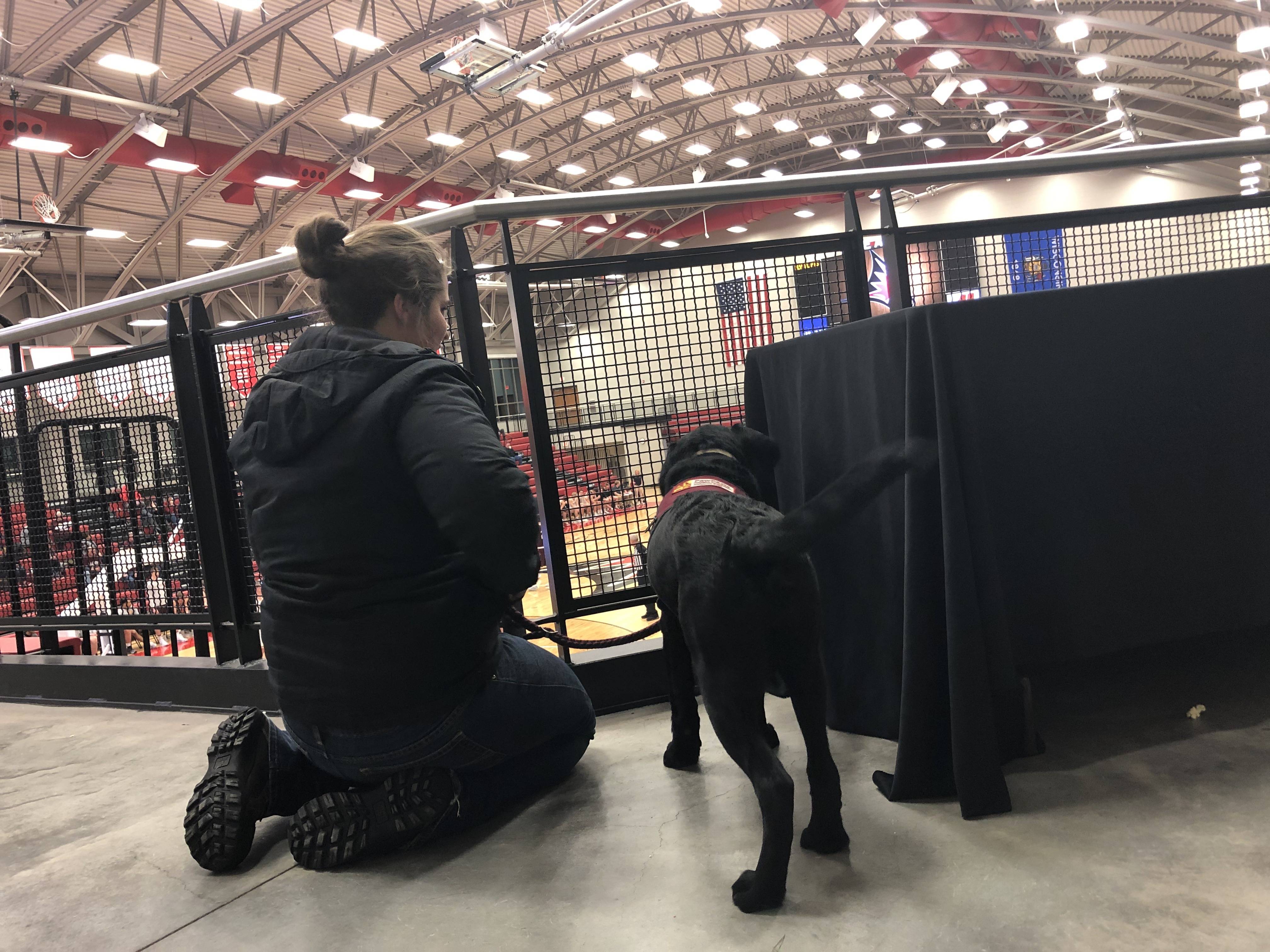 Assistance Dog Education Program and Training
(ADEPT)™
ADEPT around town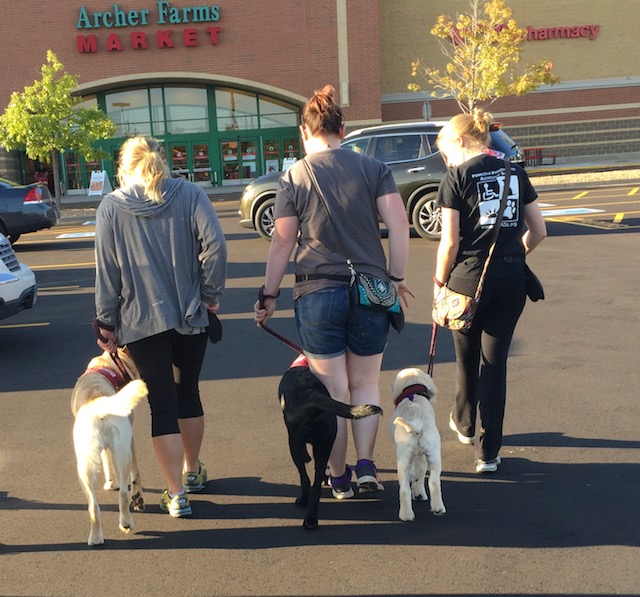 Assistance Dog Education Program and Training (ADEPT)
ADEPT (Assistance Dog Education Program and Training)™ is an innovative PawPADs program offered to University of Wisconsin-River Falls students. It utilizes PawPADs' positive training methods and philosophy to give college students an opportunity to grow, both professionally and personally, while also preparing assistance dogs to help people with disabilities gain independence.
How Does The Program Work?
The ADEPT program, which works with UW-River Falls students, is distinct from traditional assistance dog puppy-raising experiences and is a unique, intensive, life-changing opportunity for students to learn life-skills through the training of an assistance dog for placement with a person with a disability.
Pawsitive Perspectives Assistance Dogs (PawPADs) provides ADEPT participants with service dogs in-training, professional training instruction and opportunities for application, as well as opportunities for broader collaboration within the industry and the community. In exchange, the internship requires a serious and dedicated commitment of time, patience and teamwork on the part of the student.
Designed for students with a serious interest in assistance dog training and placement, or in the application of Animal Assisted Interventions in human services, the ADEPT internship program, previously attached to the College of Agriculture, Food and Environmental Science (CAFES), is a multi-semester opportunity offered by PawPADs.
ADEPT interns are provided professional training instruction, guidance and support by PawPADs' staff with opportunities for application. PawPADs strives to provide a well-rounded experience for students beyond training our dogs – weekly meetings feature lessons on topics such as disability education, nonprofit management, service dog laws/ethics and canine enrichment. Upon graduation from the ADEPT program, interns will have gained both professional and personal skills that will be beneficial to them in the future.
ADEPT interns are responsible for the training, socialization and welfare of the ADEPT assistance dogs in-training. Students will also participate in public outreach and advocacy activities as well as fundraising in order to support the ADEPT program and the assistance dog industry as a whole.
Specific activities and responsibilities include: high level socialization/public access training, obedience skills and task training which is useful to a person with a physical mobility challenge, such as retrieves, turning on lights, opening doors as well as alerting to blood sugar changes. Each student is responsible for the daily care, supervision, training, and sanitation of dogs involved in the program.
Check out the ADEPT™ Program Information Sheet and follow the ADEPT program and PawPADs on Facebook for updates and current program and application information!
In Their Own Words...
Testimonials from ADEPT participants
"As I reflect on my time at UW-River Falls, I can't imagine not being in the ADEPT program, the impact it had on me is hard to put into words. I not only had the amazing opportunity to train four assistance dogs and see two of the dogs that I trained through to placements with clients, but I also made lifelong friendships with my fellow ADEPT interns. Being an ADEPT intern was challenging but so incredibly rewarding, each dog teaching me something new and bringing a new set of challenges and opportunities. To this day I am so proud to be able to share with others the amazing work PawPADs and the ADEPT program is doing and my experiences from the past two years. From the beginning I said that these dogs are life changers and I know that is true because they have forever changed mine."
- Grace M
"ADEPT creates the opportunity for coming-of-age students and service dogs in-training to learn from each other, resulting in life-changing client placements. Student interns live their lives with their dogs, which means going to class, work, appointments, events, you name it. It also means going through the highs and the lows with each other, learning their personalities, celebrating small victories, educating the community, and advocating for individuals with disabilities. Living this life leads to endless teaching moments, both human and canine. The process of raising a service dog requires intense love, hard work, and determination." - Nate D.
The ADEPT internship has been one of the most rewarding experiences of my life. Helping service dogs develop from puppies with no manners to fully-fledged diabetic alert dogs or physical assistance dogs is eye-opening. I have been able to see the dogs I have worked with find their perfect match and take on the world with their partner, and this has shown me that the ADEPT internship has not only changed my life for the better, but has also helped me change the lives of others in monumental ways." - Alana S
"Throughout my three years as an ADEPT intern, I've been able to work with seven incredible dogs. Each dog provides new opportunities to learn and grow, both personally and as a trainer. Being able to watch partnerships form between clients and our dogs is a magical experience, and knowing you played a role in allowing those partnerships to develop makes all of the challenges we face during training worth it. Interns learn how to advocate for not only our clients and dogs, but also for ourselves. We learn how to tackle life with strength, confidence, and determination. This organization has changed my life in the best way possible and I'm so excited to continue working with PawPADs in order to help change other people's lives." - Lauren S.
ADEPT Teams 2020-2021
Interested in bringing ADEPT to your institution?
ADEPT offers:
An established curriculum and extensive experience training both dogs and people.
A mission statement specifically focused on the educational aspect of training dogs.
Complete package of skills and knowledge developed by pioneers in the field.
Broad, up-to-date, and relevant Continuing Education experience.
In-depth experience within the University of Wisconsin and Federal Bureau of Prisons systems.